Caring for Employees is Good Business

 3 mins 25 secs
Creating Room For Dreams

2 mins 46 secs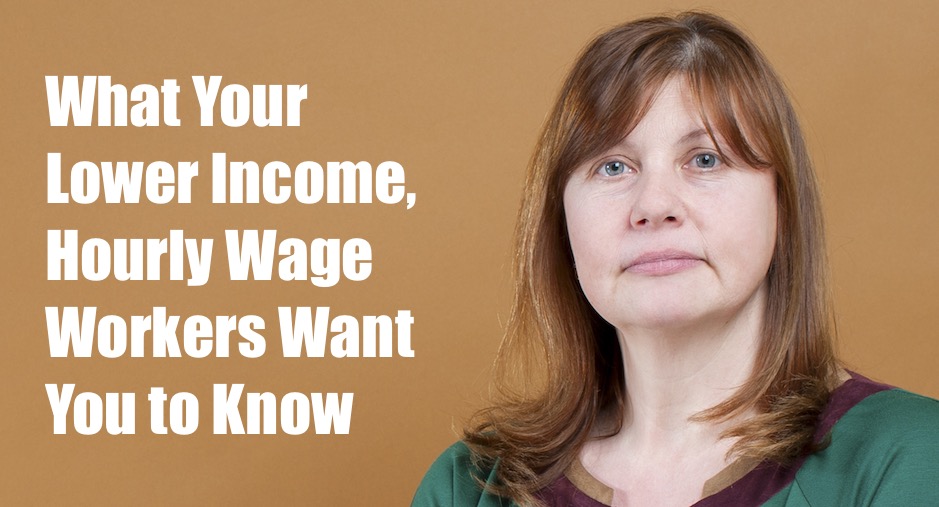 Many employees feel that there's an "unwritten guideline" they have to adhere to when dealing with their company's executives (i.e. always seem grateful, say yes to everything, don't complain, overachieve, etc.). Eventually, this hurts workplace performance when employees suffer from personal and/or work-related difficulties in silence.
Taking the fact that 90 million Americans live paycheck-to-paycheck and want financial health into consideration, we interviewed 3 lower income, hourly wage workers to find out what their real feelings are. They shed light on their struggles with financial stress and tell us what they want company executives and management teams alike to know so they can improve employee financial health and workplace productivity.
How Financial Stress Affects Their Lives
Financial stress affects more than just your bank account—it damages your health, your sanity, and your overall quality of life. These sentiments are contended by all three of our interviewees. For example: 58-year-old Karen works at a low-paying insurance job and is the sole caregiver for her spouse. She reports that financial stress seeps into every detail of her life, and she even disclosed that she's gone without enough food at times due to lack of finances.
22-year-old Emily lives in a house with 4 other people in an attempt to lower costs of living, yet she continues to struggle to pay for her basic necessities. She told us, "There's so much I want to see and accomplish, but I can barely afford my rent, let alone get myself to a better situation."
27-year-old Chrissey reports that not only has she gone without food, electricity, transportation, and a home to live in due to lack of finances, but it's even pushed her to experience depressive and suicidal thoughts. She states, "I've thought to myself, 'what's the point? I can't do anything with my life. I'm not getting anywhere no matter how hard I try or work.'"
They're not alone in their struggles, either. Financial stress affects the lives of millions:
In hopes for future workplaces conducive to success, our interviewees tell us what they want you (their employers) to know.
What They Want You (The Employer) to Know
One thing is clear: Poor benefits compromise employee loyalty. Karen left a high-paying job because management failed to provide support for employees. Chrissey says she's left most jobs due to unsupportive management. Emily says, "In fact, every single job I left was for that very reason. Which, honestly, has been a lot. " And with turnover costing companies 16% of a low-paying employee's annual salary and 20% of a midrange employee's annual salary, finding innovative ways to improve retention rates is critical to maintaining optimal profitability.
When we asked what they want their employers to know, their collective answer was pretty simple: They want to be offered the kind of benefits that employers would want for their own lives and families. Above all, they're longing for benefits that produce increased productivity, financial health, and the capacity to flourish in all aspects of life.
And, when employees are given access to their earned-but-unpaid wages, many benefits are introduced to the employee's and employer's lives:
Decreased absenteeism
Improved retention rates
Increased employee productivity
Focused, engaged employees
Reduced health care costs
Improved workplace morale
When we asked Emily how it would affect her life if her employer offered a way to access her earned-but-unpaid wages, she said, "That would be a huge benefit. My paycheck is my only source of money—if I could access what I have earned when I need it, I wouldn't stress as much. Life is constantly throwing unpredictable obstacles. It would be nice knowing you have a backup."
What Employers Find Out During Exit Interviews
Too often its not until exit interviews that you hear from employees about what they really want from their employers.
An employee benefit that helps them save money
A purpose-driven job with a sense of fulfillment
A trustworthy employer who lives up to their promises
To work for a company who contributes to society
An employer who gives feedback and shows appreciation
An employer who invests in their growth
An effective work-life balance
If you are a forward-looking business, give your employees the "backup" that will lessen their financial stress. Click here to request a demo to see how we can effectively support your employees with a holistic financial wellness solution today.